Simple Dome Light Replacement Project
Transforming your domed light fixture into a stylish handing drum pendant is easier than you think.  
First: Buy your materials
1. A lamp shade.  I recommend using something that is a square or rectangle.  The plexiglass insert that shields the hardware would be rather difficult to cut in a circle.  Also, choose a shade that is no taller than 12″, since there is only one attachment point and the bigger the shade, the greater the chances of it not being properly supported.
2. A detachable lamp harp – it should ideally be a size that is about 2″ smaller than the height of your shade.  The color doesn't matter because you won't see it in the finished product.
3. A hexagonal Nut – to secure the lamp harp to your light fixture.  Again, color doesn't matter, just size.
4. A finial – this is decorative, so pick something that goes with your decor scheme.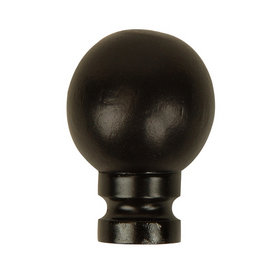 5. A piece of plexi-glass.  Measure the top of your shade where the metal cross bars are located.  Mine were 15.5″ x 15.5″.  I cut my piece of plexi-glass to 15″ square to allow a little bit of room between the shade and the edge of the plexi-glass.  You will find plexiglass in your local home improvement store near where you would buy replacement window screens or glass sheets.  They will cut it to your measurement for you!
6. Additional Supplies you may have at home:
Fine grit sandpaper (220).  I used an electric sander, but you can just use a sponge block too.
Screwdriver
Electric drill with assorted bits
Second: Prepare the plexi-glass. 
Remove the protective plastic film from one side of the plexi-glass.  Using circular motions, sand one side of the plastic to give the plastic a frosted appearance.  This is necessary so that you cannot see the hardware on the inside of the drum shade once it is hung.
After you sand, wipe off the surface with a damp rag.
Next, place your plexi-glass on top of your chosen shade and mark where you need to make a hole.  Select a bit that is the same size as the opening as on the top of the lamp shade.  Remember to place the plastic on top of a magazine or the ground outside so that you don't make a hole in your work surface.
Set the drill to the fastest setting.  Start the drill before making contact with the plastic to avoid cracking.
Final: Put all your pieces together!
1. Attach the lamp harp to the existing light fixture by using one of your nuts.
2. Put up the shade and plexi-glass and attach it all with the finial!
You're all done!  Enjoy your updated fixture!